| | | |
| --- | --- | --- |
| ....ARCHIVE Gallery Page 2 | | ARCHIVE Gallery Page 4... |
Ohakea 1950-51
Ohakea 1950-51
DH 98 'Mossie' warming-up
for a 'fly about'
Line-up of DH Mosquitos from
some of the 76 allotted to the RNZAF.
Photo taken by an ATC cadet at an
annual training camp.
---
1936-37. DH60 Moth ZK-ABB

HB & East Coast Aero Club.
No IDs of group ??
A Canadian-built trainer.

"Fleet" type as supplied to
Canadian aero clubs 1930s,
and promoted by Clyde Engineering
for sale to NZ aero clubs.
---
How we looked after our NZ aviation in the 1950s.

New Zealand's first jet aircraft.
Gloucester Meteor F111 (NZ 6001)
Ohakea ATC Camp about 1950.

Grumman TBF Avenger.
Ohakea circa. 1950/52
Loaned then purchased from the UK for £5,000 ($10,000) at the end of WW2.
Sold for scrap ex-Hobsonville RNZAF to McKechnie Bros. for £1,000 ($2,000) after a heavy landing
with no back-up spares to repair.
One engine running for about 2 seconds used 20 galls. It could be heard for miles.
Rukuhia airfield 1938. Arnold Wright's photos.
RNZAF NZ-102 Vickers Vildebeeste.
RNZAF's main trainer until Harvards replaced them.
Also in picture:
ZK-ADV Homebuilt "Tui Sports" on left.
ZK-ACG Comper Swift - right
ZK-ACK DH 60M "Kia Ora" flown from UK to Australia 1930
by Oscar Garden. Became NZ-510 RNZAF WW2.
Hamilton fog in background

| | |
| --- | --- |
| | Arnold Wright the Photographer |
FROM LAGOON TO AN AERODROME IN A FEW ' SHAKES '
Over the years, whenever February the third came around, many of we HB 'oldies' always remember
the family 'roundtable's with very serious discussions and riveting reflections of aunts,
uncles' mum's dad's and other folks experiences.?
These were re-aired again, with possible new additions to the stories discovered since the
previous year. The subject always being- The Hawke's Bay Earthquake
( also known as the Napier Earthquake ) it occurred at at 10: 47 AM
on Tuesday morning February the third 1931.
It was centered 15 Km north of Napier. It lasted for two and a half terribly destructive
minutes and measured 7. 8 on the Richter Scale ( 7.9 on the new Richter scale )
and killed 256 people ( 258 in some records ) and injured approximately 400.
(There are many books, articles, records, andWeb sites available, covering the disaster in more detail.)
There are five "pages" covering the Lagoon to aerodrome project (see Napier Aero Club pages).
| | |
| --- | --- |
| BOTTOM OF SHAKESPEARE RD PRIOR 1931 QUAKE | BOTTOM OF SHAKESPEARE RD FEB/MARCH 1931 |
| | |
below: WRIGHT - FAMILY PHOTO 'QUAKE HOTEL' MAY AVENUE NAPIER 1931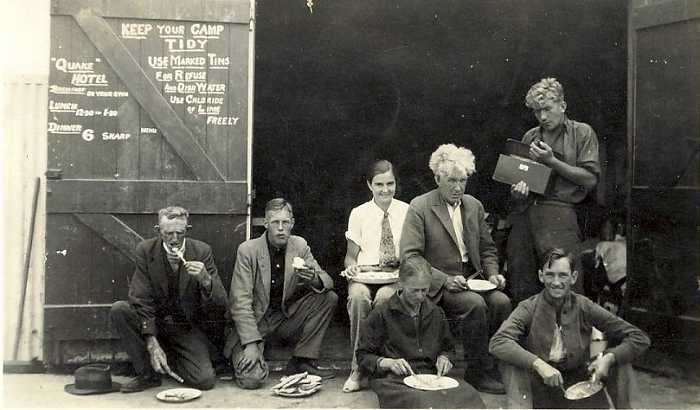 LOOKING UP SHAKESPEARE RD FEB/ MARCH 1931
---

Ron Kirkup - East Coast Airways
Beacons Drome

New Zealand was a world pioneer of
aerial agriculture.
Early operators designed and operated
their own loaders.
Leaning on the wing of the Moth is Glen Earl,
who was killed in 1949 while topdressing.

New Zealand Airways was established by a Mr. Horatio MacKay in 1928, fully NZ-owned.
By 1935, it operated five three-seat Spartans and a DH Puss Moth.
Based in Timaru, it ran flight-training and charter flights throughout NZ,
and intended to provide a passenger service between Invercargill and Auckland.
Left: One of the two Boeing 40H aircraft
they hoped to use on the Invercargill - Auckland service.
Just visible in the hangar are three of the five Spartans, wings folded.
The New Zealand Transport Coordination Board of the day would not issue the line
with a licence, preferring the aircraft to be British and twin-engined,
and with overseas financial backing.
Left: Boeing ZK-ADX . Mr. Horatio MacKay,
(2nd from left), talking to Harry Lett, (veteran pilot).
R. Johnstone in the cockpit.
The licenses were allotted to two other operators: Union Airways and Great Pacific Airways.
NZ Airways only held a licence to operate the Canterbury/Otago routes.
The company eventually ceased operations, and all aircraft were auctioned off,
(sadly, at bargain prices). The Boeing ADX was sold on to Australia for £55, ($NZ110),
becoming VH-ADX. It crashed in New Guinea in 1939.
The whole episode was a tragedy for Mr. MacKay, who had committed his finances
to what may have been the first regular service from Invercargill to Auckland.
Left: Baggage stowage - a very precarious task,
particularly with the prop flying around nearby.
Note the rug in Horatio's hand.
---
After a long search for a publisher, our Committee member, Dick Brunton,
has finally had his book printed. It is a most interesting read,
covering Dick's wartime experiences in New Zealand, Canada and Europe.

More info about book HERE

He has a few spare books for sale at $NZ35 each. Please contact us with your address..we will pass this onto him.
---
| | | |
| --- | --- | --- |
| ....ARCHIVE Gallery Page 2 | | ARCHIVE Gallery Page 4... |